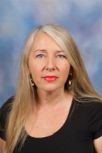 by Kerry Hall
---
7C students have been making fruit kebabs at home as part of a Common Assessment Task. Part of the brief was to research attractive ways to cut and present the kebabs. I think Michaela and Ivy both have bright futures as food stylists!
A second requirement was a sensory analysis of the kebabs from a bank of words describing food. Once again Michaela blitzed this with a paragraph worthy of a food magazine!
---
My fruit kebabs were vibrant and eye-catching with their colour, and they looked extremely appetising after I created them.

The fruit kebabs smelt ripe and fresh, which was invigorating after some difficult school work. The pineapple added a nice sharp edge to the fruity smell.
---
The kebabs tasted juicy and sweet. The more zesty fruits mixed with the sweet fruits made the kebabs very well balanced!

My fruit kebabs had both crisp fruits and melt-in-your mouth feeling fruits as well. Every fruit was syrupy and delicious!