by Rosina Fotia, Principal
Welcome to winter and exciting times at Lilydale Heights College! The recent state government announcement is very positive news for the whole community and investment in infrastructure will complement the great learning work already being undertaken in the classrooms.
---
$8,000,000
State Government Grant and Lilydale Upper Yarra Education Plan
The Labor Government has announced that the Victorian Budget 2018/19 will invest $20 million in the Lilydale and Upper Yarra Education Plan. We will receive $8 million for a new Sustainable Learning Hub, gym and to create a 'town centre' where students can meet, learn and discuss issues.
Further investment in the Lilydale and Upper Yarra Education Plan includes:
$5.8 million to rebuild Lilydale High School's Zoology Learning Centre and provide new admin facilities
$6.2 million for an Outdoor Environment Centre, other outdoor learning spaces and further upgrades at Upper Yarra Secondary College
---
Learning Focus
Year 7 and 9 students have just completed their NAPLAN testing for this school year. Students completed some preparatory work in the lead up to the week of national testing. Year 9 students also embarked on a careers and occupations journey. This will culminated in them presenting a careers and occupations showcase to Years 7 and 8 students. During this period, Year 10 students were on work experience.
Six principals from outer east secondary schools undertook a Learning Walk with Mary Jean Gallagher at Mooroolbark College last week. Dr Mary Jean Gallagher is the former Assistant Deputy Minister and Chief Student Achievement Officer of the Ontario Ministry of Education. She is internationally renowned and is currently in demand as an advisor and consultant. The focus of our work was to undertake some observational rounds and to discuss the common elements of and opportunities for the school to work collaboratively to improve students' learning outcomes.
There is a great deal of evidence to suggest that when networks of schools work collaboratively, student achievement is optimised. The Lilydale Network of schools, including both primary and secondary schools, is very pleased to be able to work closely to take the education of our students to the next level. On Thursday, 10 May, as part of an ongoing shared practice agenda, staff from all schools in the network engaged with a range of workshops held at varying network schools. It was organised and led by specialist teachers from the Victorian Curriculum and Assessment Authority (VCAA). Teachers chose to attend workshops on a range of subjects including: digital coding, STEM, critical thinking, ethical capabilities, literacy, numeracy, music and health education. They worked with expert teachers who have the latest in evidence-based teaching strategies that will ensure our students benefit when the teachers return to the classroom. The opportunity for our teachers to come together and share ideas is also an important part of the shared practice program.
---
Curriculum Day May 31
The next scheduled Curriculum Day is on Thursday, 31 May. This will be a pupil free day. The day will have a curriculum design focus and allow teachers time to meet and plan for the upcoming examination period.
Attendance
As we move into the colder months, it is time to remind parents and guardians that daily attendance is important for all children and young people to succeed in education and to ensure they don't fall behind both socially and developmentally:
Children and young people who regularly attend school and complete Year 12, or an equivalent qualification, have:
better health outcomes
better employment outcomes
higher incomes across their lives.
I urge families to support their child's progress and attendance at school. Please contact the College if your child is absent or if you need support with engaging your child at school.
---
Congratulations Sarah Bast
Congratulation to Sarah Bast from the class of 2017. Sarah is the winner of the 2017 VCAL Senior Student Achievement Award. Sarah was acknowledged for her achievements during her final year in VCAL. She is now continuing her studies in event management at William Angliss College. Congratulations must also be extended to the VCAL teachers from 2017 for their support and encouragement of Sarah.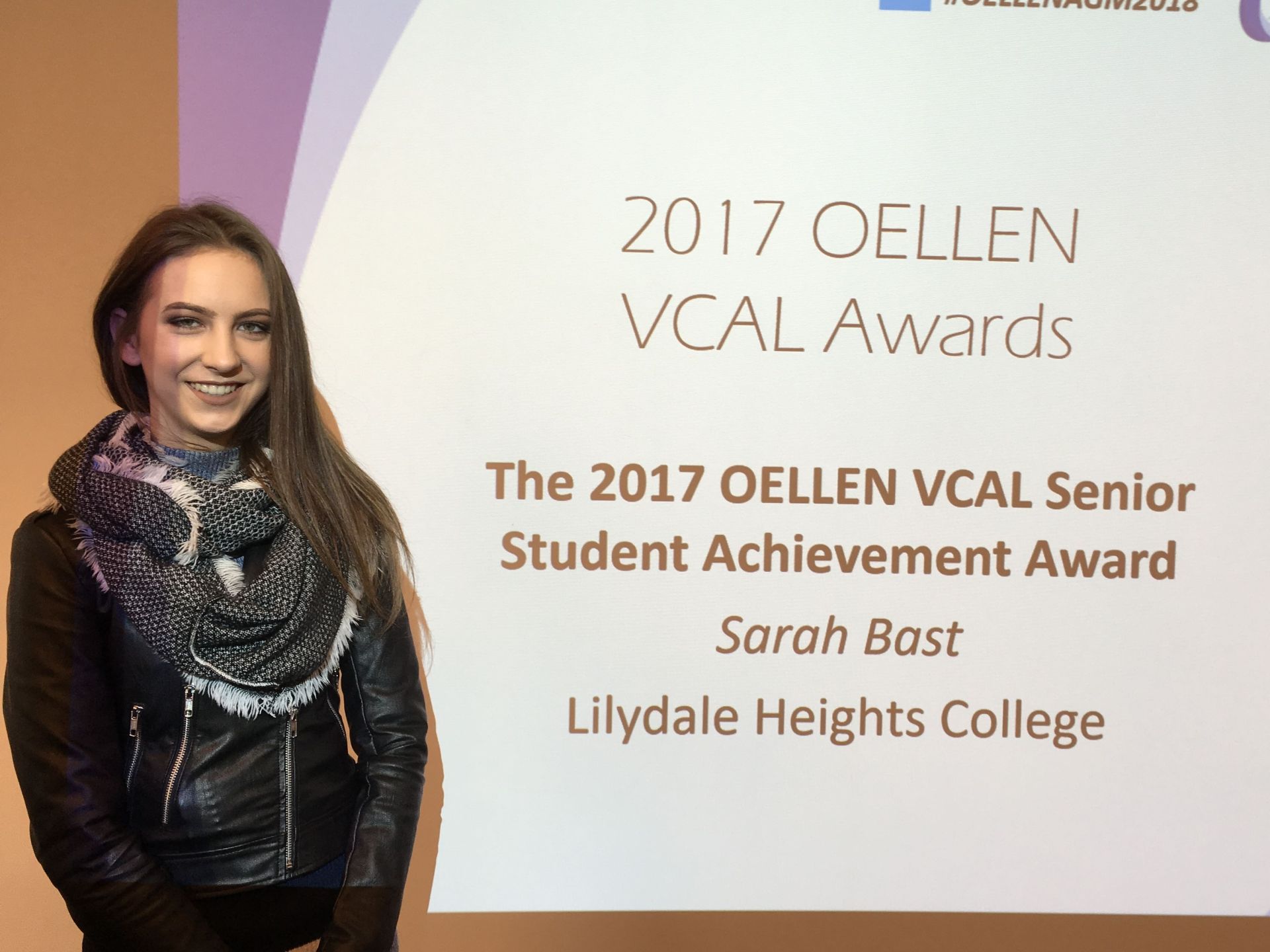 ---
Year 9 Occupation Expo
During this month's NAPLAN week, Year 9 students participated in an alternate program that had them investigating a range of occupations of interest to them and presenting their findings to junior students in an Occupation Expo. The range of occupations selected and efforts and pride placed into presentation was exceptional. Students in Years 7 and 8 were provided with the opportunity to visit the expo and ask questions about the careers on show. At the end of this week, Year 9 students also visited the city to develop a broader understanding of the City of Melbourne, how it operates and the civic institutions that support it. This will help them develop an understanding of the concept of urbanisation and the effects of large groups of people living and working together in a concentrated space.
---
Congratulations again to the Middle School Team for their work and support of student learning outcomes.