by Rosina Fotia, Principal
I would like to welcome the school community to the 2017 school year. The school year has started smoothly and we have officially welcomed all our new staff and students at a whole school assembly.
New Staff
Welcome to the following staff who have joined the outstanding team at Lilydale Heights College:
Tyson Barker, Head of Music
Bryce Denny, Head of Junior School
Michelle Gaudion, Head of Middle School
Henry Lees, Mathematics
Farran King, Mathematics/Science
Sean Geraghty, Mathematics
Marco Iacone, Japanese
Adam Bratt, Integration
Susan Crowe, Integration
Allison Cooper, Integration
Helene Butterworth, Office / Daily Organiser
Doug Standen, Facilities and grounds
College Leaders 2017
Congratulations to the following students who have been nominated as College leaders for 2017. These students have been selected because they display skills and attributes that the Lilydale Heights community values. These values include: a willingness to achieve their best: EXCELLENCE, RESPECT for themselves and others and a capacity to accept the RESPONSIBILITY for their own actions.
College Leadership Positions
College Captains: Jett Buller, Rachel Theobald, Kim Buttress
Year 11 Vice Captains: Jon Burgham, Ruby Moran, Sophie Liska
Year 12 Prefects: Georgie Haynes, Patrick Leung, Aden Stares
Year 11 Prefects: Maneth Houen, Emily Hall
House Captains
Castella Vice: Prue Angove
Castella Captains: Georgie Haynes, Kiara Bax
Melba Vice: Amy Boyce, Tsyanne Duff Rankin
Melba Captains: Rachel Theobald, Aiden Stares
Yarra Vice Captains: Emily Hall, Chloe o'Hea
Yarra Captains: Tamarrah Brown, Jett Buller
Olinda Vice Captains: Jack Day, Lisa Breslin
Olinda Captains: Janvi Berri, Adam Cowie
Music Captains
Music Captains: Jess Cooban, Brit Jennings
Music Vice Captains: Harry Griffith, Lachlan Milsteed
Class of 2016
The 2016 VCE cohort completed a very successful year of study and produced some exceptional results. The top ATAR achieved at Lilydale Heights College in 2016 was 89.7, ranking this student in the top 11% of students in the state. One Theatre Studies student has been selected as one of only 20 students from across Victoria to perform at the VCE Season of Excellence 2017 awards. An outstanding achievement Alannah!!!
80% of the class of 2016 indicated that they wished to continue with further study in 2017 and received a first round offer. Their choice of Institution and preferred areas of study can be seen below.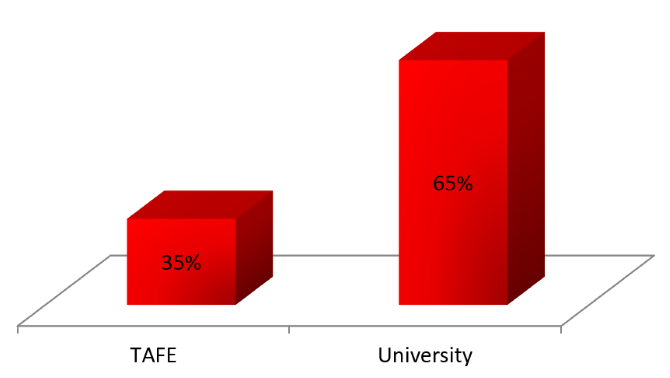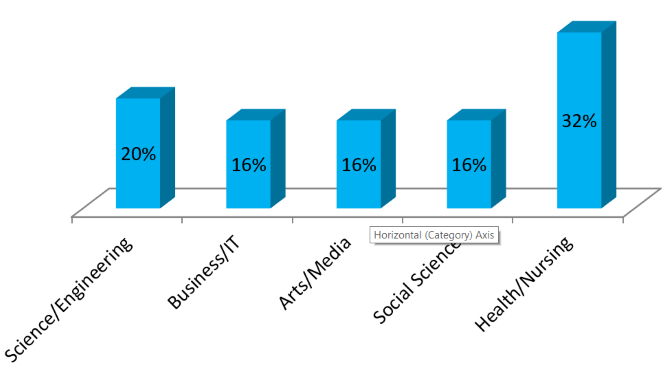 In addition to this, many of our VCAL student s have secured traineeships and apprenticeships and are now in full time employment. This result is testament to the work and commitment of our senior teachers and careers team.
Soaring Start camp
Year 12 students have already returned from their "Soaring Start" study skills and careers camp. Year 12 VCE students spent three days at Ormond College based at the University of Melbourne where they undertook study skills tutorials as well as visited Melbourne University and other city based universities etc such as RMIT, ACU, William Angliss and Swinburne. Congratulations to the team involved in the organisation of this important event: Mr Wright, Mrs Sutherland, Ms Byrne, Mrs D'Amore and Mrs Tamos
Learning Focus 2017
The learning focus and school priorities for the 2017 school year have been developed in conjunction with the College leadership team. These priorities are outlined in the College Annual Implementation Plan. The key focus areas for 2017 include:
Building the capacity of teachers in literacy and numeracy
Improving curriculum and Assessment practices
Developing a culture of high expectations
Curriculum Day
Our fist Curriculum day for the year is scheduled for Wednesday March 8. This will be a student free day and no formal classes will operate on this day. The focus of the day will be development of curriculum documentation in line with the new Victorian F-10 curriculum. All staff will also undergo training focussed managing and supporting students with learning needs
SELF Program
The Student Engagement in Learning for the Future program has started very positively. Staff and students have embraced the program and students are working hard on transition activities, understanding the College values, setting personal learning goals, developing career action plans and raising awareness of cybersafety.
Teach the Teacher
The teach the teacher program is a program designed to use student voice as a driver for improvement in student learning outcomes. During term 4 of last year a group of students worked closely with two staff members and developed a survey for staff and teachers to complete. This survey was based around feedback and how effective it was for students. Findings from the survey were presented to staff by students on the first day of the school year. Teachers then collaborated with the students and decided on the following priority areas for term one of this year.
Teachers will:
Give timely feedback within TWO weeks
Provide feedback with a focus on improving learning
Explicitly tell students when feedback is being given
In order to support the work of the teachers, students have committed to the following as their primary areas of focus for term 1 this year.
Students will:
Bring all required equipment to class
Come to school ready to learn
Complete all assigned tasks.
These findings were presented to all students at the whole school assembly and we look forward to measuring the improvement in these areas at the end of this term.
Facilities
The College has been successful in gaining a grant of almost $200,000 to establish an inclusive indoor/ outdoor classroom between the College gymnasium and H Block. The grant is very well deserved and is the result of the work of Jenny Clark and Terry Payne. We look forward to watching this garden develop into an amazing resource for our students and teachers.
College Council Elections
The College Council looks after the governance of the school. The Council is the forum where all College stakeholders: teachers, parents, community and students can work closely with the Principal in setting College directions. Our council consists of seven parent representatives, five staff representatives, three community representatives and the Principal. There are currently five vacancies for parent representatives on Council and nominations are now being sought. College Council meets on the third Thursday of every month (excluding school holidays). Nomination forms can be collected from the general office and must be returned by Friday March 3. The new council will meet on March 10.
Car Park and Child Safety
At this time of the year it is important to highlight to families the importance of Student Safety in and around the College grounds. Pickup and drop off times are especially hazardous. It is at these busy times that accidents can occur. In order to ensure student safety we have allocated a Pick up/Drop off zone at the front of the school. Parents are not permitted to enter school grounds or car parks to pick up and drop off their children. Please use the parking bays located along Nelson Road for this purpose. We appreciate your support with this safety matter.
We look forward to working with you all throughout what promises to be a busy but productive school year.